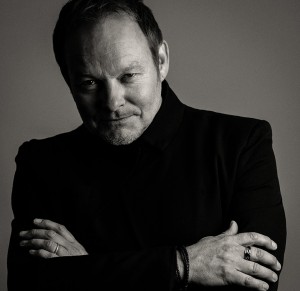 Twice Grammy nominated and 2.7Million Albums sold The pop/rock group Cutting Crew formed in England in 1985.
just one year before "(I Just) Died in Your Arms" made them stars at home and across the Atlantic. Founding members, Kevin Scott MacMichael (guitar) and Nick Van Eede (vocals) met in Halifax, Nova Scotia, while both musicians were on tour with their respective bands. A musical connection was made, and MacMichael soon left his native Canada and relocated to England, where he and Van Eede immediately began to collaborate. After signing with Siren Records on the strength of their demos, Cutting Crew became a foursome in 1986 with the addition of bassist Colin Farley and drummer Martin Beedle; they entered the recording studio that same year. While the pace was certainly quick, the quartet was comprised of veterans; Eede had toured the world with his Sussex-based outfit the Drivers, MacMichael served time as guitarist for Fast Forward, Beadle was a one-time member of Hull, and Farley had completed hours of session work for many artists.
Cutting Crew released their debut album, Broadcast, in 1986. The group received mixed reviews from music critics, but not when it came to the album's undeniable highlight, the synth-heavy "(I Just) Died in Your Arms." The song became smash hit in the United States, reaching number one on the Billboard singles chart and enjoying similar success in the U.K. "One for the Mockingbird", "I've Been in Love Before" and "Any Colour" also enjoyed significant radio play, and the band left home for a worldwide tour, co-headlining with groups as the Bangles, Starship, and Huey Lewis & the News.
Cutting Crew released a sophomore album, The Scattering, in 1989 featuring the top 40 hit "Everything But My Pride". A third full-length effort, 1992's Compus Mentus, failed to revive their sagging popularity baecause it was never released…apparently the band are negotiating to get this happening and Cutting Crew called it quits the following year. MacMichael paired up with Robert Plant for the singer's 1993 solo effort, Fate of Nations, while Nick Van Eede chose to revive Cutting Crew the following decade. Featuring a radically different lineup, the group released the truly excellent Grinning Souls in 2006, Visit Cutting Crews Official MaSpace Page.
The Best of Cutting Crew By Doug Stone
"Who would have thought a boy like me could come to this?" This collection is worth owning merely for the immaculate single "(I Just) Died in Your Arms Tonight," a much-maligned saccharine heart-burst that, along with primo Honeymoon Suite and Glass Tiger, gracefully straddles the line between pop-metal and pop light. The unapologetically mellow "I've Been in Love Before" updates "I'm Not in Love" for the strip-mall crawlers, and comes remarkably close to the same level of commercial perfection. Also from the Broadcast debut comes "Any Colour," a hidden gem of '80s brilliance (an oxymoron?) that wraps crisp, big-bang production around breakneck guitar breaks mixed with hoots, yelps, yearning, and crooning; this love dream recalls the Producers' waver classic "She Shelia" while surreptitiously slipping in an odd Pink Floyd nod. "One for the Mockingbird" and "Life in a Dangerous Time" also deserve mention, and again appear on Broadcast. So since that LP is so blasted rock solid, why not just put the whole blamed record on a disc with the Cutting Crew's second, Scattering (the band's third, Compus Mentus, seems lost forever)? Well, then legions of fans would be deprived of the extended version of "(I Just) Died in Your Arms Tonight" (seven seconds longer). "Scattering" jigs in a Big Country way and "Fear of Falling" gains its balance once over the Automatic rip opener, but the three aforementioned masterworks set a standard impossible to maintain. Nick and the Boys of Cutting Crew are Planning a US tours  for 2018-19