Kurt Maloo, a former painter from Zurich, Switzerland, who made his first musical appearances in the mid 70s as singer and guitarist of Troppo, a nine-piece experimental art-punk band and later with Ping Pong, a trio that was touring in Europe and also played the Montreux Jazz Festival in
1982, teamed up one year later with pianist/drummer Felix Haug and formed the legendary duo DOUBLE.
They started invading the world with their beautifully crafted, catchy single The Captain of  Her Heart from their first album Blue in 1986, after they had released two highly acclaimed maxi singles Rangoon Moon and Woman Of The World. The sound of DOUBLE certainly has caught on. The million selling album Blue has been released in more than 50 countries and The Captain of her Heart became a modern-day classic.
After a full year of promotion in Europe and the US, Kurt Maloo and Felix Haug recorded their second and last album DOU3LE, a Freudian stroll through the mind of a modern man. Visualized best in the unique performance of the legendary Mummenschanz in the award winning music video of Devils Ball, a weird easy-listening tune, that hit the charts in Latin America, feat. Herb Alpert on trumpet. When the duo disbanded in 1989, DOUBLE had never toured, dispite their huge commercial success.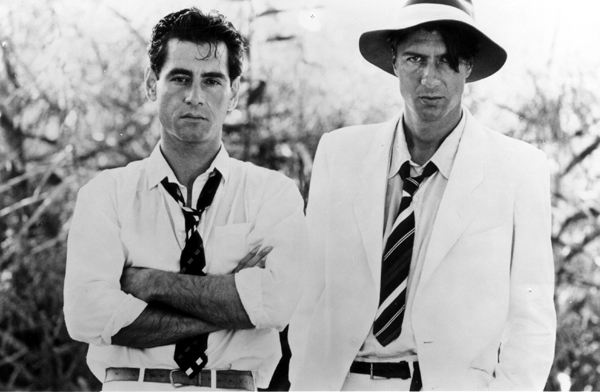 In the 1990s Kurt Maloo was busy with his solo career, releasing three albums under his own name, while Felix Haug was focusing on movie soundtracks and commercials. When the two decided to give DOUBLE another go and hit the studio together again, Felix died of a heart attack shortly after the finishing of their recordings in 2004. In 2006 Kurt Maloo compiled the last DOUBLE recordings with remixes of old songs for a tribute album (Loopy Avenue) and started to go back on stage with young musicians from Germany, playing concerts with his band around Europe, including the Nu-Note Festival in Moscow.
In the 1980s, as one half of the brilliant pop duo DOUBLE, Kurt Maloo coauthored and sang one of the most
enduring soft rock anthems. The velvety insistence of Maloo's voice has grown in suggestiveness and seductiveness even more over the years. The Captain Of Her Heart has long been a radio standard from Canada to Kathmandu, and regularly makes it into the jazz and pop download charts throughout the world. Now Kurt Maloo is about to revive the original DOUBLE sound together with top musicians and will bring The Captain Of Her Heart on stage…finally…a world premiere!
DOUBLE  are now accepting offers for 2018:  Artist Available for Bus Tours, Fly Dates, Venues, Festivals, Fairs, Casinos , Radio Shows And Corporate Events