Bang, and here we go…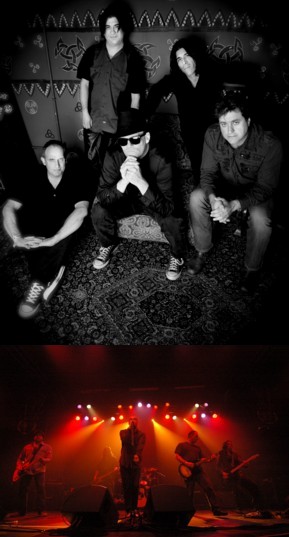 Sporting three of the original "four-ish" members of Dramarama ("four-ish," you ask? Well, they didn't start out with a permanent drummer, and after all, are many drummers really permanent?), the band is having more fun than ever and exudes a confidence and ease that only can come through experience. With the addition thirteen or so years ago of bassist Mike Davis (among other accomplishments, Mike is also the bass player for Metal God Rob Halford,) and drummer Tony Snow (The Change, Glimmer Stars, as well as a permanent member of Dramarama) original Dramarama members Peter Wood, Mark Englert, and john easdale have really found their musical brethren. If you saw Dramarama back in the day and thought they were good, now you'll be blown away; these guys are PHENOMENAL!*

Every show is live, no tapes or tracks here! Every show is different, no formula, no set list. Every show is at least five talented guys having a great time on stage and sharing that experience with the audience.
*Of course this is subjective and mainly applies to those audiences with common sense and exceptional musical taste.
Dramarama is Mark Englert (Lead/Rhythm Guitar); Peter Wood (Lead/Rhythm Guitar);  Mike Davis (Bass); Tony Snow (Drums) and john easdale (Singer/Songwriter).
Dramarama's "Anything, Anything (I'll Give You)" remains one of the most requested songs of all time on Los Angeles's World Famous KROQ 106.7 FM
Dramarama has released six critically acclaimed studio albums Discography can be found at All Music Guide and is currently working on their seventh* at the legendary Village Recorder * Critical acclaim pending
Dramarama music has appeared in/Dramarama has appeared on Entourage, Prison Break, Melrose Place, Ellen, Nightmare on Elm Street 4, Road Trip, Higher Learning, Pet Sematary 2, Tuesdays With Morrie, Late Night with David Letterman, VH1 Bands Reunited, and many, many more.
Dramarama is as potent and compelling playing large festivals/stages (having shared the bill with Kings of Leon, Jet, The Cure, Fountains of Wayne, X, Radiohead, and Pearl Jam, to name just a few) as they are headlining more intimate venues. If you're still not convinced, read what the experts have to say:  "one of America's best rock bands…" Chicago Sun Times ; "Be prepared for a live show that's tight as hell and surprisingly loud" Dallas Observer;  "…it is a tribute to a potent sound and enthusiastic vision that Dramarama still sounds as fresh and sharp now as when it first emerged during the corporate-rock bloat of the mid-'80s." David Fricke; Dramarama's John Easdale has been called "…one of the finest singer /songwriters of these times…" Los Angeles Times;  "John Easdale and his band, Dramarama, are a force to be reckoned with and an act that must be seen."  Richard Blade (Radio Icon);  "I can't wait for the next sweaty, sing-along experience."  USA Today 
Dramarama is now accepting offers for 2018 & 2019  80's Packages ; available for Local Shows,  Fly Dates / Venues, Festivals, Fairs, and Corporate Events.