Kajagoogoo
After a showcase gig at the Embassy Club, London, where they attracted interest from three major labels, Kajagoogoo signed with EMI records in July 1982. In January 1983 their debut single, 'Too Shy' was released hitting number one in the U.K. and seven other European countries, and peaked at number five in the U.S.A. Shortly after the release of 'Too Shy', 'Ooh to Be Ah' and 'Hang on now' were released. Both were Top 15 U.K. hits. In April 1983, Kajagoogoo released their first album, 'White Feathers'. Unwittingly but not unwillingly, the band quickly became teen idols and over 60,000 U.K. fans saw them play on their 'White Feathers' UK tour.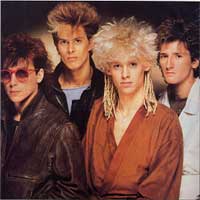 In the summer of 1983 an irreconcilable split saw the band reduced to a four piece, Nick Beggs stepped forward to replace Limahl as lead singer and a further hit was scored in the British and European charts with BIG APPLE. Kajagoogoo continued with Nick Beggs as the lead vocalist, touring extensively through out the world. The album 'Islands' was released in 1984 to much critical acclaim from the music industry. The US version of the album 'Extra Play' saw the band change it's name to Kaja. 'Islands' marked a change in direction from a pop focus to a more mature, experimental approach. The band released three singles from 'Islands' 'Big Apple', 'The Lions Mouth' and 'Turn Your Back On Me'. which achieved a position of no. 1 in Billboards 12 inch dance charts. Even though the album was not as commercially successful as 'White Feathers', it remains a favourite with the die-hard fans.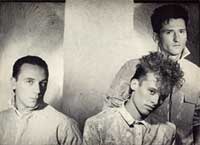 Direction changed once more for Kajagoogoo when Jez became unable to fulfil his writing commitments for the third album. It was at this point that Nick Steve and Stuart after many attempts to get him back on track decided he would have to go. Now as a 3 piece the band went to California to record 'Crazy Peoples Right to Speak'. Again changing direction, Steve, Nick and Stuart shortened the name of the band to 'Kaja' in the European and US market. With the new name and image, they released a single; 'Shouldn't do that' and the album 'Crazy Peoples Right To Speak'. The record showed more of a rock influence than the previous albums but had limited commercial success and in 1985,the band deciding to go their own ways.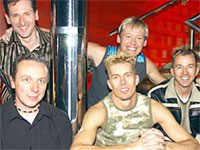 In October 2003, Vh1 performed the ultimate miracle, by getting kajagoogoo to reform to the original 5 piece band for a one off television special, as part of the Vh1 'Bands Reunited' series. Fortified with this development, Nick Beggs was approached by various British and American promoters offering extensive touring contracts through out the world. Nick arranged a dinner meeting with all other members of the band to discuss the future. Unfortunately on delivery of the good news, Limahl produced a pre-written letter outlining his conditions for future Kajagoogoo work. Steve Stuart and Nick, took this under consideration, however felt that it would mark a return to old demands and was inappropriate in light of many financial issues that they had borne the brunt of over the 20-year period. The honeymoon period and warn glow, captured by vh1's Bands Reunited was but a fleeting moment in the turbulent history of Kajagoogoo
But now Kajagoogoos' creative core are back together and writing new material for a soon to be released album. Catch them live this summer as they bring their unique brand of synth pop to America.