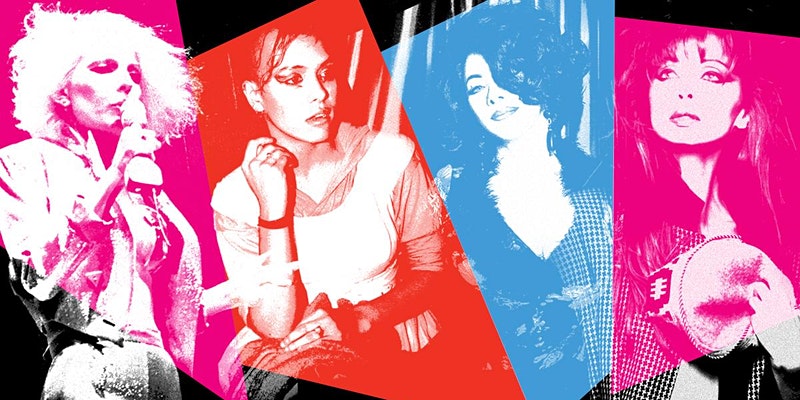 Dale Bozzio of Missing Persons

Dale Bozzio is an American rock and pop vocalist. She is best known as co-founder and lead singer of the '80s new wave band Missing Persons and also known for her work with Frank Zappa. While with Zappa, she performed significant roles in two of his major works, Joe's Garage (1979) and Thing-Fish (1984). In her solo career, Bozzio has released four albums and one EP so far.
Bozzio co-founded Missing Persons in1980 with former Zappa musicians Warren Cuccurullo and Terry Bozzio. In addition to being the band's lead vocalist, she also contributed lyrics. Missing Persons released one EP and six albums, including Spring Sessions M (1982), which achieved gold record status.
​She has also participated periodically in reunions of the original band and has continued her work as a solo artist. In 2014, Bozzio was signed to Cleopatra Records and released a second studio album in 2020 titled DREAMING.
Annabella of Bow Wow Wow
Annabella Lwin, at the tender age of fourteen, was one of the most photographed, talked about and popular vocalists in the early 80's with her band, BOW WOW WOW, who enjoyed success with massive hits such as 'I Want Candy', 'Do U wanna Hold Me?', 'Go Wild in the Country' and 'C30, C60, C90, Go!' Her unique vocals — which swung between sweet fourteen and Balinese banshee squeals — defined the sound of a new and energetic pop culture; her memorable performances influencing and inspiring a brand new wave of up‐and‐coming artists such as the Red Hot Chili Peppers, No Doubt, Smashing Pumpkins and Green Day amongst others.
As well as writing and recording original material as a solo artist, she has been a featured vocalist on numerous transatlantic dance favorites with Tony B (LA's hottest radio dance DJ) the Utah Saints (England's' most innovative and popular DJ Duo) and Jason Nevins (Run DMC remixer of 'Walk this Way'.) Her songwriting/co‐production brought her collaborations with Guy Chambers (songwriter for Robbie Williams' chart hits), and seasoned producers such as Michael Lattanzi (Mariah Carey, Paula Abdul, Sly & Robbie, Anastasia.)
Josie Cotton
Josie Cotton's 1982 new wave hit "Johnny, Are You Queer?" is unquestionably in dubious taste (although its killer chorus is one of the more memorable of its era), but there's more to this underrated singer/songwriter than her one shock-value novelty hit. Not only are Cotton's two early-'80s albums underrated pop gems, she since resumed her career in a surprising fashion; rather than jump the lucrative '80s nostalgia bandwagon like so many of her Los Angeles contemporaries like Berlin and Dale Bozzio of Missing Persons, Cotton has turned to a lovely, haunting version of art rock closer to that of Jane Siberry or Kate Bush.
Stacey Q
Best known for her '80s dance-pop smash "Two of Hearts," Stacey Q's Madonna-ish look and youthful age helped her appeal to teens as well as clubgoers during her relatively brief time in the spotlight. Born Stacey Swain, she first began performing as part of the Ringling Brothers Circus, and joined a synth pop outfit called Q (named after the James Bond gadget man) in the early '80s. As the focus of the group shifted to its new vocalist, their name was changed to SSQ (for Stacey Swain) and they landed a deal with Enigma, releasing an album, titled Playback, in 1983. It went largely unnoticed, however, and the rechristened Stacey Q pursued a solo career. She eventually signed with Atlantic, and made her solo debut in 1986 with the LP Better Than Heaven. The lead single, "Two of Hearts," soared into the pop Top Five of the Billboard Hot 100, making Stacey Q a hot commodity; she performed on the sitcom The Facts of Life and scored another Top 40 hit with the follow-up, "We Connect."