You'll Never Forget Your First Time….
Was it really that long ago when synthesizers and cotton-candy hair seemed oh-so modern?
Not for The Lost 80's Live, this Reagan era tour features some of the most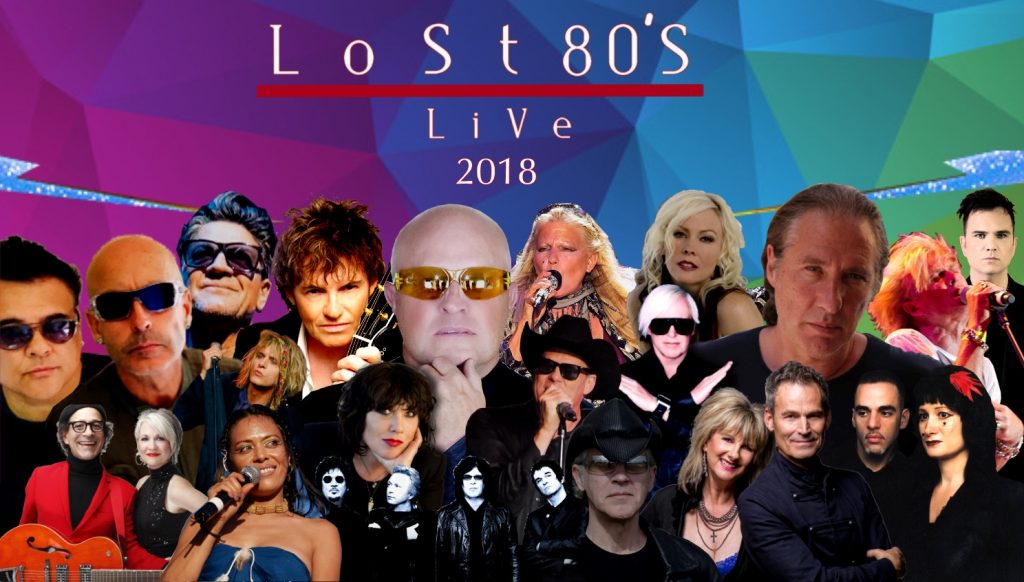 recognizable acts from that great decade, featuring: A Flock Of Seagulls, Wang Chung, Men Without Hats, Missing Persons, Farrington and Mann the original WHEN IN ROME UK
This amazing show is filled with all your favorite 80's songs performed by the artist's you know and remember, I Ran and Space Age Love Song: A FLOCK OF OF SEAGULLS, Dance Hall Days and Everybody Have Fun Tonight: WANG CHUNG. This show is a must see, featuring one hit after another and is sure to keep you on your feet, dancing to the melodies you remember so well. Obsession and I Engineer: ANIMOTION and The Promise and Heaven Knows: FARRINGTON AND MANN the original WHEN IN ROME UK.  The Metro and Take My Breath Away: BERLIN On Selected Dates. the Line Up will Change from time to time, the Following May be added Depending on Artists Availability. THE MOTELS, NU SHOOZ, DRAMARAMA, BOW WOW WOW, MISSING PERSONS, THE FLIRTS, NAKED EYES, MEN WITHOUT HATS and Many More. This is a unique opportunity to see all these great groups from the amazing 80's performing live on one stage, their Biggest New Wave and Pop radio hits of all time. The Lost 80's Live tour has been described by thousands of concert goers as a greatest hits show of the 80's and a rare opportunity to experience so many great bands in one concert, one night, on one stage.
Every song played is on a greatest hit's CD of the 80's and the moment is timeless, don't miss this 80's best of concert, don't miss the Lost 80's Live.
Tour dates  and one Offs start in July 2018, US dates will Begin on August 3rd at the Tilles Center For The Perf. Arts in New York our 15th Anniversary Concert is set for Saturday September 8th in Las Vegas at the Downtown Las Vegas Event Center
This package is geared towards the Generation X or Reagan era 28 – 65 + of age, Fans young and old can now see more then one of their favorite artists from the 80's Live on one stage and relive that great feeling one more time. available for Theaters , Casinos, Fairs, Festivals, Radio Shows, Corporate and Private Events. Artist(s) may change beyond our control, always contact venue before buying your tickets to confirm line up in your area.
Lost 80's Live is Now Accepting Offers for 2021-22. Large Club Venues, Casinos, Festivals, Fairs, Private Events, Radio Shows, Corporate Events and Fly Dates.