Wally Palmar of The Romantics >
Wally Palmar, lead singer and founding member of The Romantics, is one of the most recognized vocalists of the 80's.Singing, playing rhythm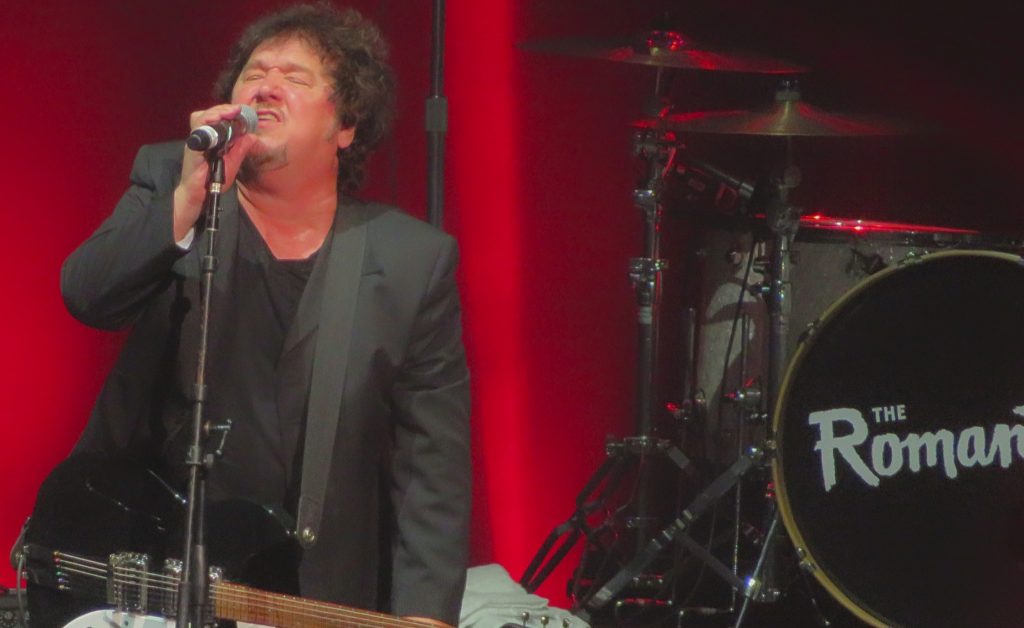 guitar, bass guitar and harmonica, Palmar's unique and memorable musical contributions, have helped The Romantics remain one of the most influential bands emanating from this important period.    A hard working street kid from the East side of Detroit, Palmar was born in Hamtramck, Michigan, the son of deeply religious, blue collar Ukrainian immigrants. Graduating from Immaculate Conception Ukrainian Catholic High School, the Church not only educated Palmar, it gave him his first experience singing during liturgy. Growing up in the '60's, Palmar says, "I was very fortunate. We had AM/FM radio which was partial to Motown and Detroit rock and roll. And on TV, there were girls screaming at the Beatles and Stones." His dad bought him his first guitar and amp in '67. He quickly became bored taking guitar lessons and went home to learn songs on his own. With natural musical aptitude, teaching himself to play the harmonica was next. Some of Palmar's early influences were that of British Invasion rock, most notably the music of The Beatles, The Rolling Stones, The Who, The Kinks, The Pretty Things and The Yardbirds.
The Romantics music reflects this important time in Rock History.  After signing with Nemperor Records in 1979, The Romantics released their self-titled debut LP in 1980. Recorded in only three weeks, and propelled by "What I Like About You," and "When I Look In Your Eyes," the album, earning a total of 9 gold and platinum records worldwide, took them around the world
touring. It is an exemplary pop-rock piece which carries on throughout the decades and across all cultures.
In 1983 the Romantics released "In Heat" their best-selling album, going platinum shortly after its release. On the strength of such Top Ten international hits as "Talking in Your Sleep" and "One in a Million" as well as "Rock You Up", The Romantics appeared often on classic American television shows such as "American Bandstand" and "Solid Gold," and were the first "Rock" band to appear on "Soul Train." Popular worldwide, they also appeared on many television shows across Europe, Australia and Japan. In 1994, The Romantics received an award for Outstanding Pop-Rock Recording Artists from the Motor City Music Awards and in 1999, they were presented with the Distinguished Achievement Award at the Detroit Music Awards.
The Romantics are continuously being re-introduced to new generations today via the extensive airplay on contemporary rock radio, satellite radio, digital music services, various artist compilations, commercials and movie soundtracks. Some of which include: Grown Ups 1&2, Ritchie Rich, Stuart Little 2, Freaky Friday, 13 Going on 30, Shrek 2 and Surf's Up, as well as some of the more notable commercials with sponsors such as Budweiser, Burger King, Papa John's Pizza, Esurance, Hampton Inn, TGI Fridays, Old Navy and Toyota.
Wally is a huge believer in giving back to the community and donates his time and voice to helping charities such as: St. Jude's Children's Hospital, Special Olympics, Make-A-Wish Foundation, Joe DiMaggio Children's Hospital, The Humane Society, The Sheila Witkin Foundation and many other Michigan Children's Hospitals, as well as being a contributor to several orphanages in Ukraine. Today Palmar continues to write, record and tour the world with The Romantics and his new endeavor, The Empty Hearts. A hard working musician never content to simply rest on his red-leathered laurels, Wally Palmar continues to work on various side projects and studio sessions, as well as touring with Ringo Starr and His All-Starr band in 2010 and 2011. With an ever evolving career, his music and style are as much in demand as they have been for the last 40 years and have proven to stand the test of time. Wally Palmar of The Romantic  is  now accepting offers for 2021-22:  Artist Available for 80's Packages, Fly Dates, Venues, Festivals, Fairs, Casinos , Radio Shows And Corporate Events.