Wang Chung's story begins in the late 1970s, when the creative core of Jack Hues and Nick Feldman first met in London. Prompted by the freedom of the punk music movement in England, they played together in several avant-garde bands before finally becoming "Huang Chung" in 1980. The band signed a recording contract with Arista Records in 1981 after adding drummer Darren Costin to the
lineup, and released their debut self-titled Huang Chung LP in 1982.
By 1983, the band switched from Arista to Geffen Records in America. The band also changed their name to "Wang Chung" and immediately went back to the studio to record. 1984 saw Wang Chung's debut release on their new record label, entitled Points On The Curve. "Dance Hall Days" was their first major hit in Britain, yet the band hit the Top 40 twice in America – "Don't Let Go" made it to number 36, while "Dance Hall Days" peaked at number 16 on Billboard's Hot 100 chart. By the summer of 1984, "Dance Hall Days" was a worldwide hit. Drummer Darren Costin left the band in late 1984.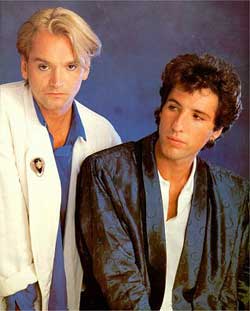 In 1985, the motion picture soundtrack for the film To Live and Die in L.A. was released, allowing Jac
k Hues and Nick Feldman to take an experimental turn when Academy Award winning director William Friedkin asked them to score his movie. The soundtrack album not only contained Wang Chung's pop stylings, but also included several instrumental tracks as well. The theme song fro
m William Friedkin's thrilling film was another hit for the band, but the song just missed making the Top 40 in 1985.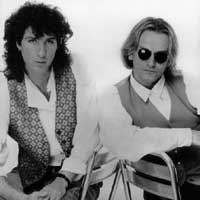 Jack Hues and Nick Feldman continued as a duo and released Mosaic in 1986. The album was their biggest success, launching the number two hit "Everybody Have
Fun Tonight" and the top ten smash "Let's Go!". "Everybody Have Fun Tonight" was instantly accessible, universally appealing, and one of the most memorable songs of the decade.
Wang Chung returned in 1989 with The Warmer Side of Cool. The album contained some very polished pop songs, and included the hit "Praying to a New God". After feeling the impact of the relatively minor sales volume for the album, the group quietly stopped touring and recording. Instead, they were each presented with other exciting opportunities within the music industry. Jack Hues immediately started writing music for another William Friedkin movie, "The Guardian". The horror film (
featuring Jack Hues' soundtrack) was released in 1990. Nick Feldman decided to team up with long-time friend Jon Moss (former drummer of Culture Club) to create a band. Their 1992 band and debut album was called "Promised Land". In 1995, Jack Hues collaborated with Genesis keyboardist Tony Banks, providing all the lead vocals for a project which Banks named "Strictly Inc".
After years of being involved in other musical projects, Wang Chung returned in 1997 with the release of their greatest hits compilation Everybody Wang Chung Tonight… Wang Chung's Greatest Hits. Since then, the band has been touring each year in America. In 2000, Wang Chung headlined an extensive tour package known as "Club 80's – The Flashback Tour", which also featured other great 80's acts A Flock Of Seagulls,  and Missing Personsl.  Wang Chung are working on a New Album and The Band Continues to tour  WANG CHUNG will be Featured on the 2016 Lost 80's Live Tour.
WANG CHUNG  is Now Accepting Offers for 2017-18.  Artist Availability:  80′s Style Packages, Venues, Festivals, Fairs, Private Events, Radio Shows, Corporate Events and Fly Dates.