Breaking News
Due to the amazing success we're bringing Lost 80's Live tour back in 2011 – New Line Up!! check here for updates when they become available. TBBA's CLUB 80's IS now "Lost 80's Live"

80s Flashback "Lost 80's Live"
Excerpt © from Pollstar.com Thu, Apr 27 2000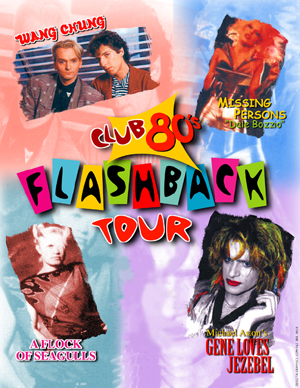 The last couple of summers have seen the emergence of a frightening shed-tour trend (at least it's frightening if you're in your 30s). The generation that falls between the boomers and Gen X has become a nostalgia audience.
Promoters are tempting 30-somethings with … Club 80's The Flashback Tour, with Wang Chung, A Flock Of Seagulls, Dale Bozzio of Missing Persons and Gene Loves Jezebel featuring Michael Aston.
Was it really that long ago when synthesizers and cotton-candy hair seemed oh-so modern?
Not for Rob Juarez. He's the agent behind the Club 80's tour and he believes in these artists so much, he's built a career around them.
Juarez runs The Boss Booking Agency and represents a number of Reagan-era acts. He is so confident about the '80s package concept, he has trademarked the Club 80's and Lost 80's Live name and plan to launch a similar tour this fall.
"For this first tour, we have assured the artists that they will work from July 1 to August 5," Juarez said. "The second will be more pop and will kick off in September, band schedules permitting."
So far, there are 13 dates on the Club 80's tour and the agent said he had several more offers on his desk. The shows start July 1st in Seattle and, so far, run through the 28th. He expects to announce more dates soon.
Before he settled down with his own company, Juarez toured with OMD, the Thompson Twins and Big Country.
"That's where my heart is at," he said. "This music is the soundtrack to an important part of my life."
He was a member of General PUBLIC for four  years and is currently still a Member of the 80's pop band WHEN IN ROME "The Promise"
He's not alone. There's a whole bunch of us in denial about something called middle-age who still sing along to "Walking in LA" and "I Ran." But that's because they're cool songs, not because we're nostalgic.